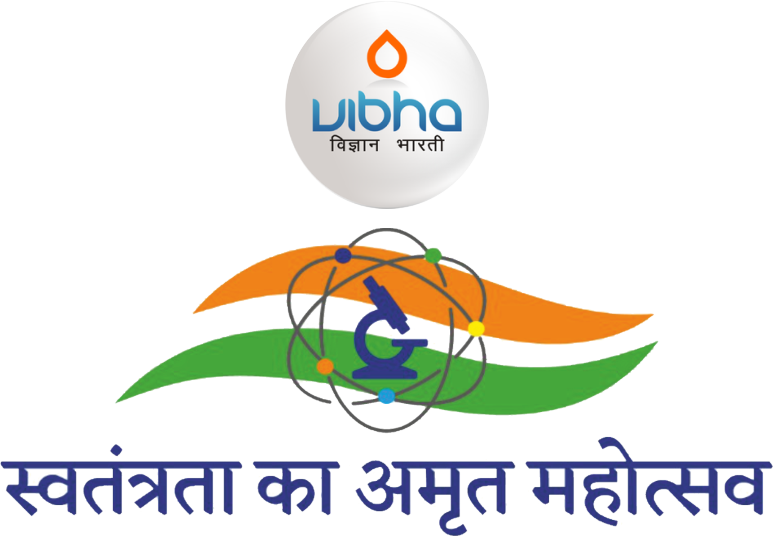 "Struggle for Swatantrata through Science "
As we know, India is celebrating 75 years of independence. It is a joyous moment and an opportunity to reflect and see where we are and where we want to go as a nation.
In the freedom movement, scientists' contributions were also critical, but it is often not discussed and highlighted. To commemorate the long overdue, it is now the time to celebrate and highlight the contributions and lives of our heroes, i.e., scientists in the pre-independence era. It will motivate and inspire our current and future generations to pursue science and technology for nation-building.
Vijanan Bharati will be conducting various activities as a part of "Amrut Mahotsav " , a year-long celebration to highlight notable contributions and lives of scientists during the pre-independence era. We at Vijnana Bharati join the Govt. of India in this landmark initiative and endeavour. Swatantrata ka Amrut Mahotsav aims to identify, acknowledge and celebrate Scientists who made extraordinary contributions to the freedom movement by cultivating Indian pride.
Our goal is to shed light on lesser-known yet significant aspects of those times for nurturing self-reliant India by a perfect amalgamation of glorious past and promising present in the science and technology domain.
Programs organised so far under this theme
| Sr No | Program details | Date and Year |
| --- | --- | --- |
| 1. | Online Lecture Series | |
| 2. | National Conference Of Science Communicators & Science Teachers | November 29-30, 2021 |
| 3. | Vision India @2047 Science Leaders Conclave held at Hyderabad | March 26-17, 2022 |
| 4. | Two-day Conference and Exhibition on the Indian National Calendar at Ujjain and Dongla(a place on the tropic of Cancer) | April 22-23 |