Lokamnya Tilak's Scientific Contribution
Lokmanya Tilak's Contributions in India's Freedom Struggle Through Science
Wednesday, 2nd August 2023
Venue :C6, Fergusson College (Autonomous),Pune
Lokamnya Tilak's Scientific Contribution and Background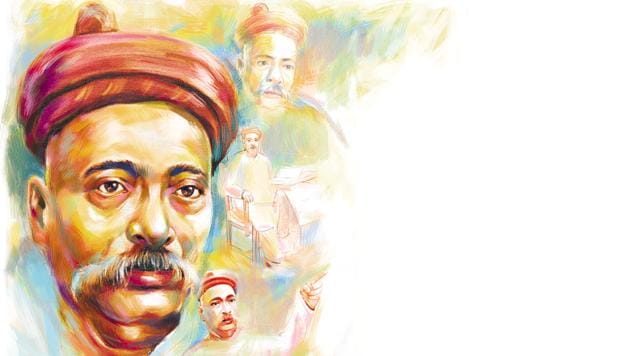 Background
The Indian struggle for independence was truly a struggle to defend and protect the identity of the country. The British were ruling the country using direct action, and at the same time infusing a sense of inferiority in the minds of our people as being a totally ignorant race having no sense of scientific knowledge and attitude. Having suffered this oppression for almost 150 years, a strong revolt started taking place in the country by our political leaders and at the same time by our scientific community. And with the concurrent efforts of both a strong revolution took place to free India from the British clutches. Unfortunately, the contribution of the scientific community remained unnoticed and dormant, which is being taken note of in the Azadi ka Amrut Mahotsav.
Many Indian Scholars like Swami Vivekananda, Lokmanya Tilak, Jamsetji Tata, Achary Praful Chandra Ray, Jagadish Chandra Bose and many more, contributed in India's Freedom Struggle by providing a strong scientific foundation to make Self Reliant Bharat by playing major role of establishing various Scientific, Educational, research and manufacturing Institutes.
On the occasion of Azadi ka Amrut Mahotsav, Vijnana Bharati and the Ministry of Culture have jointly planned a yearlong celebration on "Role of Indian Scientists and Scientific Institutions in India's Freedom Struggle"
Lokamnya Tilak's Scientific Contribution
Popularly known as the father of Indian unrest, was instrumental in proving India's superiority to the colonizers using his prowess in mathematics and astronomy.
His book 'The Arctic Home in the Vedas' is a proof of his scientific acumen. His efforts in developing a Panchang highlights his deep knowledge of astrometry and time measurement which is more scientific and evidence based
He was one of the pioneers of the swadeshi movement to stop imports from Briton to weaken their economy and make India self-reliant. The glaring examples are 'Paisa Fund Glass Factory near Pune to locally produce the lantern glasses, Sugar factory at Belapur, Raja Bahadur textile mill and so.
He envisioned the importance of scientific education and established institutes like New English School and Fergusson College. He was a great proponent of having latest technologies that were available outside.
During the plague epidemic in 1889 in Bombay province, Tilak took the initiative of setting up Imperial Bacteriological laboratory in Pune which later paved the way for the growth of microbiology in India.
The program will have multiple events like seminars, book publications, competitions, exhibitions etc. to highlight the little-known scientific aspect of the great freedom fighter & nationalist Lokmanya Tilak.
Inauguration and Announcement Program Details
Time
Program Detail
11.00 – 11.15
Registration
11.30 – 11.35
Welcome address and felicitation of guests by Principal N. M. Kulkarni
11.35 – 11.55
Address on Scientists' contribution in India's Freedom Struggle by Shri Sreeprasad ji
11.55 – 12.15
Address on Contributions of Lokmanya Tilak and Acharya P C Ray by Dr Sharad Kunte
12.15 – 12.20
Srushtidnyan - Special issue release with the hands of dignitaries and address by Shri Ramesh Date
12.20 – 12.25
Announcements of Competition
1. Blog writing – open for all – in Marathi, Hindi and English
2.Short documentary film making competition
3.Quiz competition for 8th and 9th std students
12.25 – 12.45
Screening of P C Ray film
12.45 – 12.50
Felicitations of teachers and staff members (P C Ray film part)
12.50 – 12.55
Experience sharing by representative member and director of the film
12.55 – 13.00
Vote of thanks
About the Organizing Partners
Vijnana Bharati
Vijnana Bharati (VIBHA) is a movement for Swadeshi sciences with Swadeshi spirit was established on 21st October 1991 and now led by eminent scientists for the total development of the nation. VIBHA conducts its activities through the 32 independent state units functioning across the country with more than 20,000 active members. VIBHA has initiated and established 8 entities working in Bharat, 2 International entities and 8 National and International programs. Along with that VIBHA also publishes one magazine with the name Science India and a research journal named as Journal of Ayurveda and Integrative Medicine. Taking cognizance of Vijnana Bharati's contribution in the eld of Science & Technology, Government of India awarded the Nehru Prize in the year 2007
Ministry of Culture, Government of India
Culture plays an important role in the development agenda of any nation. It represents a set of shared attitudes, values, goals and practices. The mandate of the Ministry of Culture revolves around the functions like preservation and conservation of our cultural heritage and promotion of all forms of art and culture, both tangible and intangible. The Ministry's task is to develop and sustain ways and means through which the creative and aesthetic sensibilities of the people remain active and dynamic. Ministry of Culture is the nodal ministry for the program Azadi Ka Amrut Mahotsav.
Azadi Ka Amrit Mahotsav is an initiative of the Government of India to celebrate and commemorate 75 years of independence and the glorious history of its people, culture and achievements. This Mahotsav is dedicated to the people of India who have not only been instrumental in bringing India thus far in its evolutionary journey but also hold within them the power and potential to enable Prime Minister Narendra Modi's vision of activating India 2.0, fueled by the spirit of Aatmanirbhar Bharat. The official journey of Azadi Ka Amrit Mahotsav commenced on 12th March 2021 which started a 75-week countdown to our 75th anniversary of independence and will end post a year on 15th August 2023
Fergusson College (Autonomous)
The Deccan Education Society founded the Fergusson College, a premier institution of liberal learning in India, in the year 1885. The Fergusson College has a beautiful scenic campus of 65 acres with numerous imposing buildings of gothic architecture. It has attracted scores of students from overseas. The Fergusson College imparts instruction to nearly 5500 undergraduate and post graduate students in natural sciences, Computer, Electronics, I.T. at graduate & Post graduate level, humanities and social sciences; it has very well-equipped laboratories, a library having a collection of over 3,00,000 books, rare as well as modern. Fergusson College (Autonomous) is Aliated to Savitribai Phule Pune University and has been accredited by NAAC with "A+" Grade and 3.31 CGPA. University Grant Commission has recognized it with 'College of Excellence (CE)' and Department of Biotechnology has given a 'STAR Status'.